Let's War !
FPS Game is one of the most popular game type. You can't find out how many people had played Counter Strike or Doom. But those games are too violent and bloody. It's not suitable for the kids and girls to play such games. But the game that I want to introduce today will give FPS game another life to be suitable to all people.
Teeworlds is a free online multiplayer game, available for all major operating systems. Battle with up to 16 players in a variety of game modes, including Team Deathmatch and Capture The Flag. You can even design your own maps! I admit that the first reason why I love this game is its excellent portability. When I searched games on Ubuntu, my eyes were caught by a cute image. This small little 'ball' is called Tee. They have a round body and short hands and feet. But don't think that these lovely and little 'balls' would be very friendly and harmless. In fact, they are super strong and armed. 😯 Yep! they are war animals. 😈
Tees are skilled with many weapons. No matter the scatter gun, rocket launcher, beam rifle or just a wooden hammer, those small tee will fight incredibly and show you what is the real weapon master. Even the rope which used to clime at usual can be a tool to make enemies down without finding out what has happened.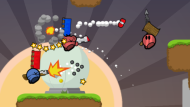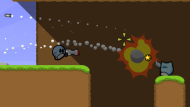 To join their world of war is very simple. Just go to the official web site www.teeworlds.com to download the client that suitable to you OS. And install it within a minute then ~ Let's war~
The first step is to custom your own tee, you can choose your favorite character image and named it with a cool ID. Then turn back to the host list and pick up the host the suitable to your location with a nice ping. And Loading…
The rest of this game can be learn by you natural war instincts. 😈 And I am waiting for your challenge or cooperation. 😎
➡ BTW: you can leave your Teeworld ID in this post's comment, that would be easier to meet our comrades.